Fire & Rescue Duty Training Manikin
Starting at:
£242.82
£202.35
Only %1 left
SKU
Fire & Rescue Duty Training Manikin
These manikins will withstand temperatures up to 100°C. Available in a range of sizes and weights, from 90 Kg (adult) to 5 Kg (baby).
F

IRE & RESCUE DUTY RANGE OF MANIKINS
The most versatile manikin for all rescue scenarios typically practised by emergency rescue professionals including: Confined Space, USAR, Chemical/Biological Hazard, Road Traffic Collision (RTC) & general handling exercises - ensuring effective, realistic training.
Constructed in the same flame retardant Polyester used in Police ballistic/stab vests, which typically has 4 times the strength and abrasion resistance of 16oz canvas or P.V.C.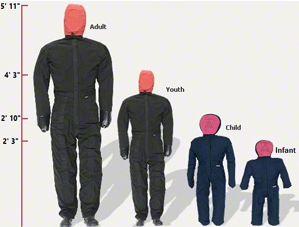 Who uses them?
Regularly exported to rescue professionals in 26 countries worldwide, with the USA, Australia and Germany being our biggest markets

Currently used by 100% of UK Fire & Rescue Services

The only manikins specified by the British Ministry of Defence (MOD) - NATO stock numbers available

Other users include:

Police, Ambulance/EMS/HART teams.

Industrial Health & Safety teams.

Angloco

Amdac-Carmichael

Assetco

Babcock

US Army

US State department

USAF (US Air Force)

USMC (United States Marine Corps)

USCG (Dept of Homeland Security)

Hong Kong Fire Service

Hong Kong Police Force

Malaysia Fire & Rescue Department

Malaysia Civil Defence

Martime Academy Malaysia

Singapore Changi Airport Academy

Australian Capital Territory Fire & Rescue (ACT)

Country Fire Authorities (Australia)

NSW Fire Services

Queensland Fire Services

Resmar Safety

Rural Fire Services (Australia)

SA (South Australia) Metro Fire Service

State Emergency Fire Services

Victoria State Emergency Services

A.H.B.V Portugal
Contact Us
Need any help? Get in touch with an expert via the contact form below.
Features & Benefits:
Anatomically correct weight distribution gives the 'feel' of an unconscious casualty

Strong webbing loop allows easy handling, hauling aloft, storage and suspension for drying

Tough enough to withstand being buried under concrete or steel lintels, driven over by a 4x4 vehicle, or dropped from a second floor window without damage

Water repellent material, making it suitable for wet or foul scenarios such as HAZMAT/CBRN

Soft body joints eliminate the risk of pinch welts and bruising; common injuries when using plastic bodied manikins

An immobilisation/extrication collar can be fitted around the neck of our adult manikins to promote proper casualty care

Using the shoutbox feature (optional extra) you can personalise a recorded message up to 60 seconds; e.g. "Help I can't feel my legs.." which can be periodically repeated

Comes complete with boots and overalls, which are easily replaced if damaged
Optional Extras:
Tough drag protectors and overalls to greatly extend the life of your manikin

Shoutbox and hood to give your casualty the power of speech to add extra realism

Face mask and wig for a more human-like appearance