Mullion - Extreme X6 Jacket
Starting at:
£234.50
£195.42
The X6 jacket is designed to fulfil requirements in extreme conditions. It has superior reinforcement panels on seat areas for enhanced abrasion resistance.
MULLION EXTREME X6 JACKET
This jacket has extreme weather protection at the fore-front of it's construction and design. Featuring reinforcement panels along the seat area of the jacket for addtional abrasion resistance. A high collar with an extra protective chin strap. Multiple pockets (including a handy ID pocket on the left sleeve) — with no chest pockets to reduce snagging. A High visibility design extreme weather jacket, coupled with retro-reflective tape on the adjustable insultated hood, upper arms, wrists and ankles. The jacket also features 'touch and close' Velcro fastening around the collar, zip closure, and hand-warmer pockets.
X6 Anti-Exposure Jacket Key Features & Equipment Benefits:
High abrasion resistance reinforcement panel added to seat area

High collar + extra protective chin strap with touch and close fastening.

High-Visibility yellow adjustable insulated peaked hood, with built-in chin and face protection stowed in collar

ID pocket on left sleeve

SOLAS approved retro-reflective tape on hood, upper arms and wrists

No chest pockets to minimize snagging hazards
Key Features:
Fully waterproof outer fabric + taped seams

Anti-flushing straps at arms

Collar with flap with touch and close fastening

Peaked hood foldaway in collar

Zip closure under double flap with touch and close fastening

2 x set-in handwarmer pockets with T&C fastening

1 x sleeve pocket with ID pocket & whistle

2 x loops for light

1 x Napoleon pocket under storm flap

Seat reinforcement

Retro-reflective tape on hood, upper arms, wrists and ankles.


Inner adjustable neoprene wrist seals.
Jacket Interior Features:
Technical Information:
Buoyancy: 54N (Size L)

Available sizes: S - XXXL

Colour: Orange
Certifications:
EN ISO 12402-5: 2006+A1:2010 ; EN ISO 12402-6:2006+A1:2010 +prEN: 2017
EN 343 : 2003 + A1 : 2007 Class 3-1
EN ISO 13688 : 2013

Maritime PPE Safety Standards:

EN 393 / EN ISO 12402-5: 50N BUOYANCY AIDS:

"Have a buoyancy of no less than 50 Newton for the average adult. This level is intended for use by those who are competent swimmers and who are near to bank or shore, or who have help and a means of rescue close at hand. These garments have minimal bulk, but they are of limited use in disturbed water, and cannot be expected to keep the user safe for a long period of time. They do not have sufficient buoyancy to protect people who are unable to help themselves. They require active participation by the user."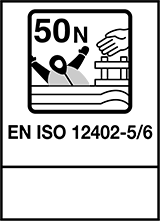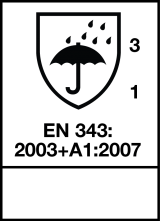 Contact Us
Need any help? Get in touch with an expert via the contact form below.
More Information

| | |
| --- | --- |
| gtin | 5415274223775 |
| Price | £0.00 |
| Brands | Mullion |
SPECIFICATION
CERTIFIED
EN ISO 12402-5: 2006+A1:2010 ; EN ISO 12402-6:2006+A1:2010

EN 343 : 2003 + A1 : 2007 Class 3-1

SIZE TABLE FLOATATION GARMENTS: BODY MEASUREMENTS
| Size | Mass Kg | Height | Chest | Waist |
| --- | --- | --- | --- | --- |
| XS | < 50 kgs | 158-176 | 80-88 | 68-76 |
| S | 50-70 kgs | 164-182 | 88-96 | 76-84 |
| M | 70-80 kgs | 164-182 | 96-104 | 84-92 |
| L | 80-90 kgs | 170-188 | 104-112 | 92-100 |
| XL | 90-110 kgs | 170-188 | 112-120 | 100-108 |
| XXL | > 110 kgs | 176-194 | 120-128 | 108-116 |
| XXXL | > 110 kgs | 176-194 | 128-136 | 116-124 |
| XXXXL | > 110 kgs | 176-194 | 136-144 | 124-132 |