Premium Lifebuoy Housing - 24" & 30"
SKU
Standard Lifebuoy Housings
A Standard open fronted lifebuoy housing available for 24" and 30" lifebuoys
STANDARD LIFEBUOY HOUSING
This popular lifebuoy housing is available in sizes to suit a 24" or 30" lifebuoy.
The design is open fronted for easy access to the lifebuoy and line stored inside. The life ring is located onto two internal hooks and the encapsulated safety line fits neatly through the centre.
A front cover is also available for additional weather protection.
For fully closed housings please see our 'Integrated Housings'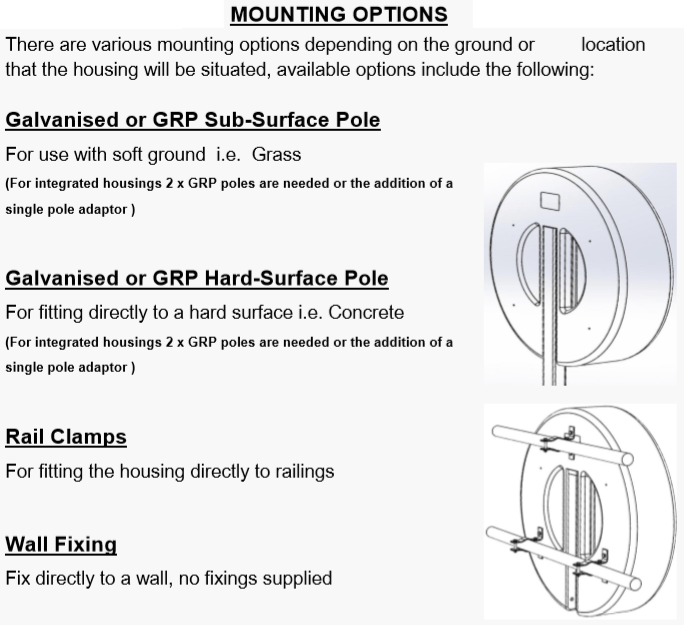 Contact Us
Need any help? Get in touch with an expert via the contact form below.
Specifications:
(a) Housings:
| | To fit 24" Lifebuoy | To fit 30" Lifebuoy |
| --- | --- | --- |
| Material | Polyethylene | Polyethylene |
| External Diameter | 700 mm | 850 mm |
| Depth | 200 mm | 200 mm |
| Weight (without Lifebuoy/Line/Mountings) | 5.2 kg | 7.4 kg |
| Overall height when pole-mounted | 1710 mm | 1750 mm |
| Colour | Orange | Orange |
(b) Rail Clamps:
To fit both sizes of Housing

Supplied in set of 3 with all fixings

Material: Stainless Steel

Weight (set): 1.0 Kg
(c) Poles (sub-surface):
Long pole, available in Galvanised Steel or Glass-Reinforced Plastic, for embedding/cementing into eg a canal-bank

To fit both sizes of Housing, and supplied with either a stainless steel nut/bolt (Galvanised pole) or 2 stitch-screws (GRP pole) to secure the Housing to the Pole
| Sub-surface Pole: | Galvanised Steel | Glass-Reinforced Plastic |
| --- | --- | --- |
| Length | 2050 mm | 2000 mm |
| Cross-Section | Rectangular 60 x 40 mm | Circular 60 mm diameter |
| Weight | 8.0 kg | 2.5 kg |


(d) Poles (hard-surface):
Pole with Base-Plate, for bolting/screwing to eg a wooden jetty, available in Galvanised Steel or Glass-Reinforced Plastic

To fit both sizes of Housing, and supplied with either a stainless steel nut/bolt (Galvanised pole) or 2 stitch-screws (GRP pole) to secure the Housing to the Pole
Hard-surface Pole:

Galvanised Steel

Glass-Reinforced Plastic

Length

1500 mm

1500 mm

Cross-Section

Rectangular 60 x 40 mm

Circular 60 mm diameter

Base-Plate

200 x 200 mm

4 bolt-holes 13 mm diameter

200 mm diameter

4 bolt-holes 13 mm diameter

Weight

7.5 kg

3.1 kg