Integrated Lifebuoy Housing - 24" & 30"
Starting at £234.00 £195.00
SKU
Lifebuoy Housing: Integrated
An integrated, closed fronted, lifebuoy housing available for 24" and 30" lifebuoys
INTEGRATED LIFEBUOY HOUSING
Our integrated lifebuoy housing is available in sizes to suit a 24" or 30" lifebuoy .
Designed in consultation with the RNLI. The easy-access door enables fast deployment of the Lifebuoy and Rescue Line as well as offering weather protection.
For mounting into or onto a surface 2 x GRP poles are needed or alternatively a single pole can be used when fitted with the

single pole adaptor

which is available separately.
This housing also includes a user instruction adhesive sticker.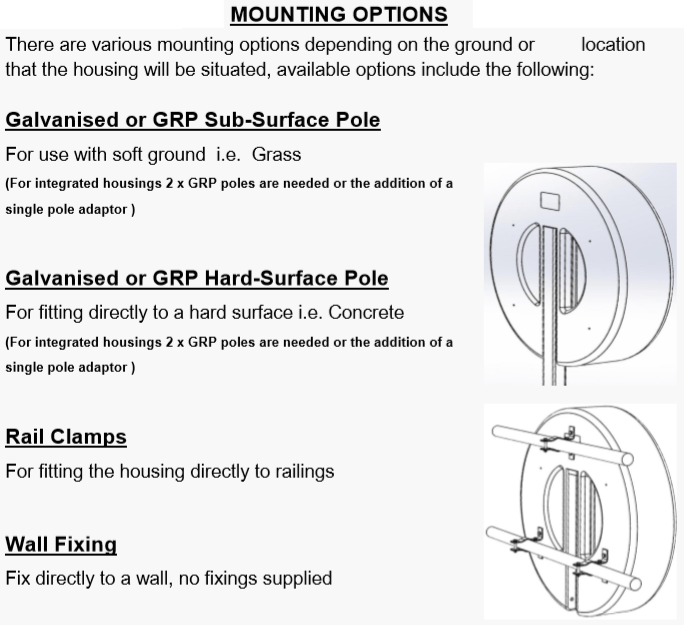 Contact Us
Need any help? Get in touch with an expert via the contact form below.
Specifications
(a) Housings:
| | To fit 24" Lifebuoy | To fit 30" Lifebuoy |
| --- | --- | --- |
| Material | Polyethylene | Polyethylene |
| Height x Width | 809 x 795 mm | 930 x 918 mm |
| Depth | 175 mm | 210 mm |
| Weight (without Lifebuoy/Line/Mountings) | 6.5 kg | 12.5 kg |
| Overall height when pole-mounted | 1806 mm | 1858 mm |
| Colour | Orange | Orange |
(b) Rail Clamps:
To fit both sizes of Housing

Supplied in set of 3 with all fixings

Material: Stainless Steel

Weight (set): 1.0 Kg
(c) Poles:
Available in Glass-Reinforced Plastic: long pole, for embedding/cementing into eg a canal-bank, or base-plate pole for bolting/screwing to eg a wooden jetty

To fit both sizes of Housing, and supplied with 2 stitch-screws to secure the Housing to the Pole
Long Pole (sub-surface)

Base-Plate Pole (hard-surface)

Length

2000 mm

1500 mm

Cross-Section

Circular 60 mm diameter

Circular 60 mm diameter

Base-Plate

n/a

200 mm diameter

4 bolt-holes 13 mm diameter

Weight

5.0 kg (pair)

6.2kg (pair)