Mullion Hi-Tide 150 Regular - Ultrafit
Ultrafit horseshoe design 150 Newton single chamber inflatable life jacket. Ideal for general use applications and compatible with foul weather clothing like the Mullion North Sea 1 and North Sea 2 Suits.
Mullion Hi-Tide Regular 150 Ultrafit
The Hi-Tide 150 Regular Ultrafit is constructed in a stylised horseshoe design, with offset shoulder straps that alleviates weight off your shoulders and neck for optimised comfort — relieving pressure stress on these areas when wearing the lifejacket. The 150 newton single-chamber life-jacket is ideal for general off-shore use. This life jacket is compatible with foul weather clothing / equipment such as the Flotation and Anti-exposure suits.
Hi-Tide 150N Regular Ultrafit Key Features & Equipment Benefits:
Durable waterproof fabric to withstand hard marine enviroments

Double shoulder straps for comfort and reduction of weight to the back neck.

Zip fastening cover for general applications and off-shore use

Stainless steel interlocking belt buckles

Adjustable waist belt to fit comfortably when worn

Detachable crutch strap


Integrated deck safety harness approved to EN ISO12401
Ultrafit Bladder:
Single chamber

Oral inflation tube

SOLAS approved retro-reflective tape on bladder


Red recovery grab strap on bladder marked "LIFT"

Inflation system


Marine grade whistle
Lifejacket Technical Information:
33g CO2 gas cylinder

Buoyancy - 157N
Approved by international standards / Certifications:
EN ISO 12402-3 : 2006 +A1 : 2010 for inflatable lifejackets performance level 150

EN ISO 12401 : 2009

Maritime PPE Standards:


En 396 / En ISO 12402-3: 150N Life Jackets - "Have buoyancy of no less than 150 Newton for the average adult. This level is intended for general application or for use with foul weather clothing."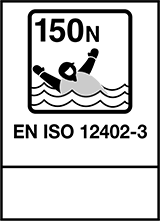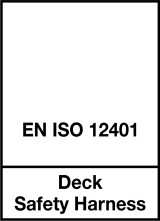 Looking to Get Your Lifejackets Serviced?
We're an offical Mullion Service Station with servicing from £10.00 + vat
Contact Us
Need any help? Get in touch with an expert via the contact form below.
More Information

| | |
| --- | --- |
| Price | £108.50 |
| Brands | Mullion |
| Lifejacket Buoyancy | 150 Newtons |
SPECIFICATION
Superior Benefits
Stylised horseshoe design with offset shoulder straps to alleviate weight and pressure stress on neck and shoulders
Key Features
Durable waterproof fabric

Double shoulder straps for comfort and reduction of weight to the back neck.

Zip fastening cover

Stainless steel interlocking belt buckles

Adjustable waist belt

Detachable crutch strap

Integrated deck safety harness approved to EN ISO12401
Bladder
Single chamber

Oral inflation tube

SOLAS approved retro-reflective tape on bladder

Red recovery grab strap on bladder marked "LIFT"

33g CO2 gas cylinder

Inflation system

Marine grade whistle
Certified
EN ISO 12402-3 : 2006 +A1 : 2010 for inflatable lifejackets performance level 150

EN ISO 12401 : 2009