BESTO 165N Auto Harness Lifejacket - Navy
The BESTO 165N Auto Harness Lifejacket is designed for use on open sea waters, and comes with a crotch harness as standard with the life jacket. Available in Black, Red and Navy.
BESTO 165N AUTO WITH HARNESS LIFEJACKET - NAVY
The Besto inflatable 165N is a life jacket designed for use on open sea, and in all weather conditions. The lifejacket has an exceptional fit on your body. This is due to the lifejacket's soft outercover, and unique '3D collar' neck shape. This collar is fixed to the back of the life vest, giving additional comfort to your neck and head when the jacket is inflated. The Besto 165 Newton Life-Jacket comes with a crotch strap as standard — enhancing the safety performance! This lifejacket is finished with an all-around edge binding .
The 165N range of life-jackets are also available in various versions — automatic or manual, with or without harness, and in various colours.
Besto Auto-Inflating 165N Key Features & Equipment Benefits:
This popular lifejacket fits securely and comfortably. Due to the collar design, and soft outer material

The collar straps firmly to the back of the lifejacket, safely supporting your neck when worn

Automatic Inflation System

An edge binding goes around the lifejacket bladder for a perfect finish

Adjustable crotch strap, for the lifejacket to sit better on the torso — enchancing safety perfomance

All Weather Cartridge

Ideal for lesiure applications

Colour: Black, Red, or Navy
LifeJacket Technical Information:
Buoyancy: 165 Newtons

UML MK5 Inflator / United Moulders MK5

31g-33g CO2 Cylinder

Size: Universal - 40+Kg
Approved by International Standards / Certifications:
ISO 12402-3; 165N.

Complies with MED 2014/90/EU as amended

Maritiime PPE Standards:


EN 396 / EN ISO 12402-3: 150N Life Jackets - "Have a buoyancy of no less than 150 Newtons for the average adult. This level is intended for general application or for use with foul weather clothing".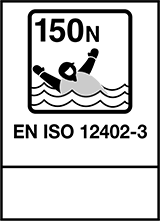 Need Your Lifejackets Serviced?
We are a lifejacket Service Station!
Contact Us
Need any help? Get in touch with an expert via the contact form below.
More Information

| | |
| --- | --- |
| gtin | 8711497632637 |
| Price | £64.50 |
| Brands | BESTO |
| Lifejacket Buoyancy | 165 Newtons |
SPECIFICATION
Key Features
Designed for use in extreme weather when wearing heavy protective waterproof clothes

Automatic or manual control

Safety belt according to ISO 12402-3

Stainless steel closures

Stainless steel D-ring

With crotch harness

CO2 Cylinder: 31-33 g

Complies with MED 2014/90/EU as amended

Certification: EN 396 / EN ISO 12402-3