Markus Overboard Rescue Nets
MARKUS OVERBOARD RESCUE NETS
The MarkusNet is a rescue device that enables one person to react immediately and effectively to a man overboard situation along a ship side or quay. It enables rescuers to lift the victim in seconds, despite the freeboard height of the vessel, thereby greatly decreasing the level of danger. It can also be used with a crane.
It provides the ability to lift/hoist crew while standing or siting in the net. It can also be used to lift/hoist unconscious crew in a horizontal position.
The MarkusNet type MS is mandatory equipment on decked vessels in several countries. It is also standard equipment in all harbors in Iceland and is now the model for international standards. It is manufactured in several versions, depending on freeboard height.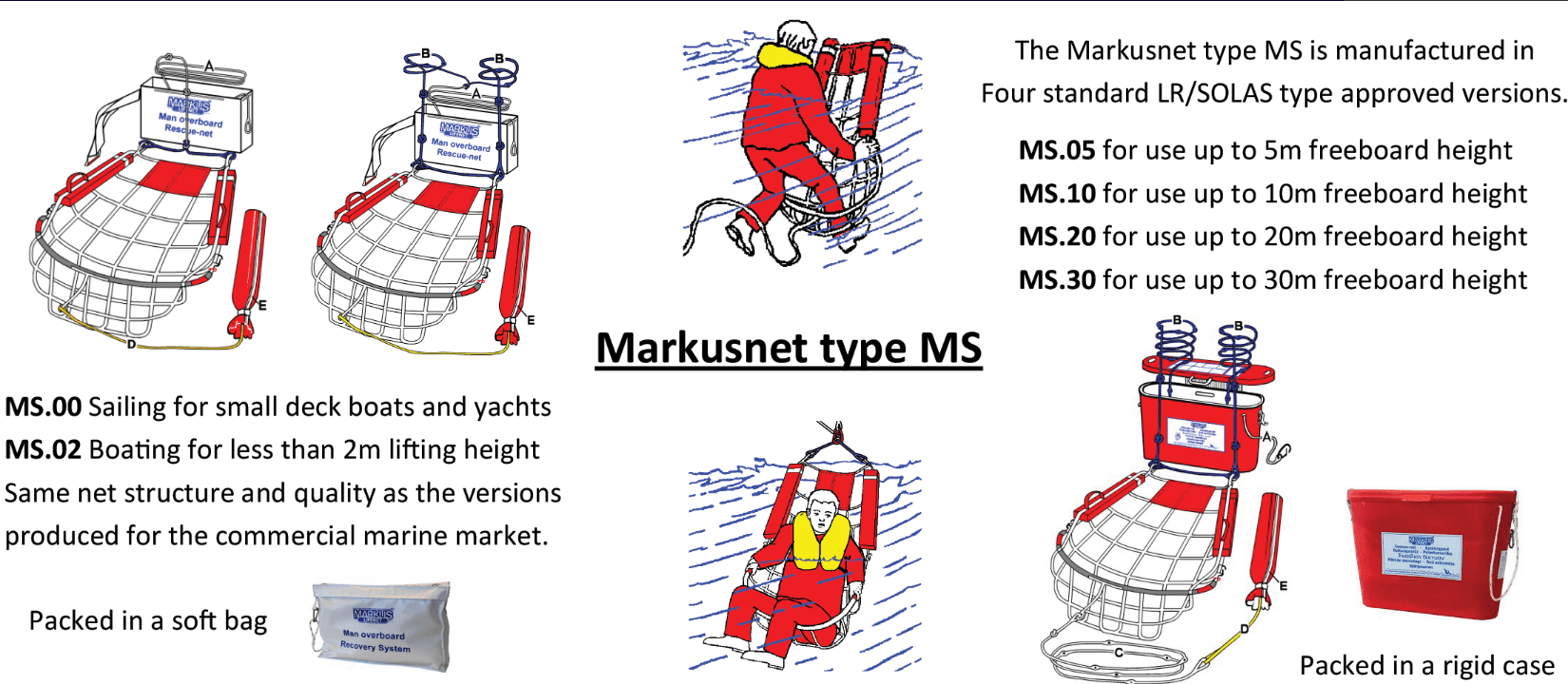 Key Features:
Easily deployed by a single deck crew to lift an MOB onboard either manually with a helping deck hand, or using a mechanical hoisting system (short boom and winch)

Can be used to rescue a MOB in standing, sitting, or horizontal position, whether manually or hoist-assisted

May also be used as an emergency ladder on deck boats with a low freeboard

Complete with a weighted throw line (25 meters) and lift lines (up to 40 meters) in order to safely respond to an inwater rescue operation. Once the MOB is secure in the MarkusNet, the MOB can be transfered to an FRC, SOLAS vessel or SAR airlift
Contact Us
Need any help? Get in touch with an expert via the contact form below.
More Information

| | |
| --- | --- |
| Price | £0.00 |
SPECIFICATION
Weight of net structure: 4 Kg

Rigid container size: L70 x H51 x W21 cm

Total Weight:
| | | |
| --- | --- | --- |
| Product No. | For Heights up to | Total Weight Kg |
| 40020137-5 | 5m | 9 |
| 40020137-10 | 10m | 13 |
| 40020137-20 | 20m | 14 |
| 40020137-30 | 30m | 16 |
Pack includes:

- Screw pack

- Instruction poster

- Man overboard safety training guide

- Brochure and description sheet

- Lloyd´s Register EMEA approval document

- 7 min CD training video