Passenger & Crew Lifejackets - SOLAS/MED
SKU
Infant, Child, Adult & Crew Lifejackets
One of world's most compact and best performing SOLAS lifejackets, available for infants, children, adults and crew
BESTO PASSENGER & CREW LIFEJACKETS - SOLAS/MED
The Besto SOLAS EC 2010 Lifejacket is fully approved to (and exceeds the requirements of) MSC.200(80), and complies with the latest SOLAS standards. The compact size allows a comfortable fit and reduces storage volume, making it ideal for passenger vessels.
Passenger lifejackets available in infant, child and adult sizes; crew lifejackets in hi-vis yellow.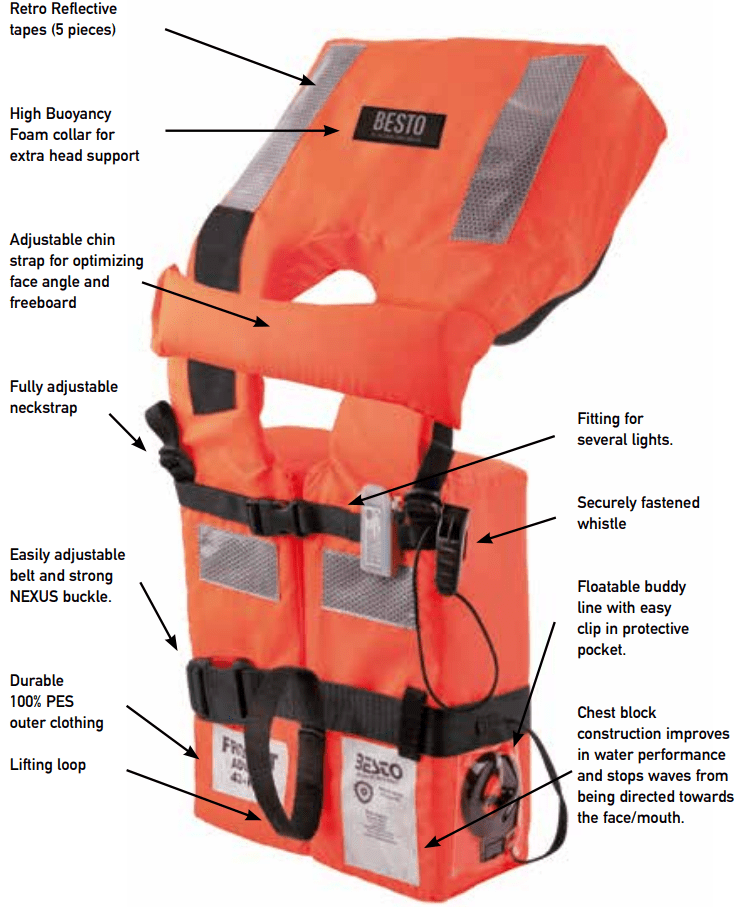 Contact Us
Need any help? Get in touch with an expert via the contact form below.
SPECIFICATION
Key Features:
Self righting in an average of 2-3 seconds

Freeboard of the mouth: more than 140mm

Improved face plan and body angles, for better in-water position to optimize survival time

Adjustable chin strap to hold the head in the optimum position even if the wearer becomes unconscious, ensuring good face angles and mouth freeboard

Options/Accessories:

SOLAS/MED approved lights

Hi-Vis yellow clothing (for adult crew only)

Crew markings

Cabin number and Assembly Station markings

Removable hygienic covers for chin strap

Adhesive donning instructions
Sizes:
Height: Weight: Buoyancy:
Infant 0 - 15 Kg 80N
Child 100 - 155 cm 15 - 43 Kg 165N
Adult 155+ cm 43+ Kg 170N
Crew Adult 155+ cm 43+ Kg 170N